"What qualifies you to be a life coach!?!"
Over the last few months since I started Short Steps Coaching, a few coaches, colleagues and friends have asked me this same question. Usually this is preceded by something like "Do YOU have YOUR life sorted out?", "You're hardly living the values of your business!", or "What qualifies you to give people advice on THEIR lives!?" etc.
These are great questions and they always bring me back to the same simple answer which has two parts really. The first part is that people don't really understand what coaching is and the second part is that I've probably not been clear on my marketing and advertising as to WHY people invest their time and money in me.
So let's start sorting that out now
What is coaching?
Coaching falls into the category of 'education techniques' and is used to stretch an individual's capability and engage them to think for themselves.
Coaching is not about giving advice or knowing all the answers, far from it. It's about objective and non-judgmental listening and asking great questions. I often use the example of a baseball coach as it's one of my favourites.
A baseball coach does not need to know anything about baseball. While of course it helps to understand the rules of baseball and how the game is played, what is most valuable is the coaches' ability to observe, ask meaningful questions and help the player to really consider and question their own approach and technique. A coach helps them see things they could not see for themselves and, most critically, to come up with their own solutions that work for them.
Below is how I tend to think of the different levels on the educational spectrum and there are other similar models out there as well.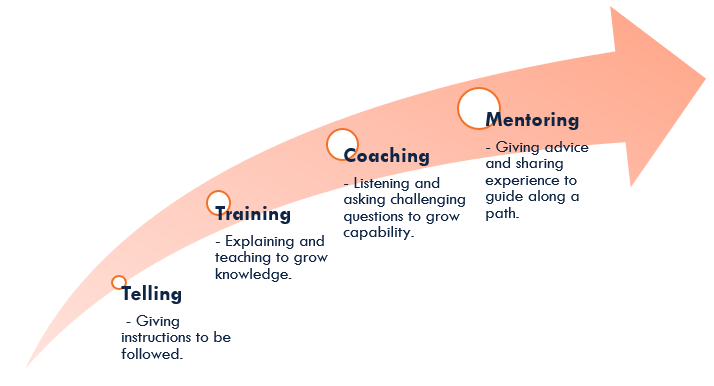 As you can see from this diagram, coaching comes further along the educational journey. It is there to help individuals to think for themselves and to come up with their own solutions, which is where increased growth really starts to happen for the individual.
Back to our baseball example;
Sports class – "You hit the ball with the bat when the pitcher throws it towards you."

Baseball practice – "Here is how you hold the bat. Here is how you swing the bat. Now practice that for a while. Ok now you need to keep your eye on the ball as it comes towards you and gauge when to swing the bat."

Baseball coaching – "What's the ball doing as it is coming towards you? Observe it and tell me next time what you see. How do your legs feel as the ball is coming towards you? What do you need to do to feel steadier and ready for the strike?" Coaching
Baseball Mentor – "I always used to find that if I looked just passed the ball, I'd hit it every time. Worth a go. The more you can predict that ball the more chance you'll have of hitting it." Mentoring
When it comes to coaching with individuals, particularly about personal life problems, then listening is the number one most important skill for a coach to have. Experienced coaches with training and a lot of practice under their belts, will have really honed their listening skills and will have also figured out their own techniques and styles for great 'active listening', in order to provide the best service for their clients that they can.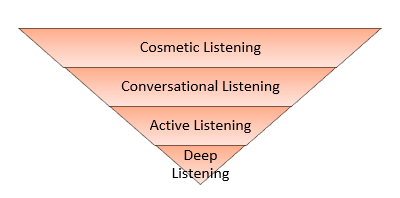 As part of my Certificate in Coaching I wrote an essay on listening and was amazed at how much is involved. How we need to self-regulate when coaching in order to manage our levels of listening. It becomes a two-pronged method. Keeping an eye on how well we're listening whilst at the same time being as focussed as possible and actively hearing what a person is saying and hoe they say it.
What qualifies me to be a 'Real-World Coach'?
In 2018 I completed a Certificate in Coaching and Mentoring at The University of Warwick.
I have both completed and delivered several training courses on coaching in my corporate career.
For the last 6+ years I have worked as a lean practitioner, deploying lean and process improvement ways of working to different businesses. This requires constant coaching and mentoring in the business at all levels.
Alongside studying coaching for over 10 years I have been a practising coach working both with individuals privately and with businesses and teams in a variety of different working environments.
I've successfully provided 121 coaching with individuals on the topics of:
Frustration and stress management.

Career moves.

Personal development paths.

Life dissatisfaction.

Limiting self-beliefs.

Personal life challenges and relationship challenges.
In businesses with teams I have delivered great results through individual and team coaching on:
Public speaking.

Problem solving.

Process diagnostics and improvement.

Team personalities.

Team dynamics.

Team working challenges.
Ideally a coach will be listening to you far more than they are speaking to you! The job of the coach is to listen as actively as possible in order to pick up and accurately reflect what you are saying, with your mouth and your whole body, and to challenge you on what you are saying in order to help you explore your own thoughts and ideas fully.
I have extensive knowledge and experience with the topics that have chosen to focus on with Short Steps. I've lived the processes that I have created with Short Steps to improve my own life, supported others with improving theirs and I have delivered value for many teams and businesses using lean coaching.
Feedback is a gift and it's up to us what we choose to do with it. If you have any comments or feedback on any of my content I'd always love to hear from you so please do contact me at chris@shortsteps.co.uk.
IF ANY OF THIS RESONATES WITH YOU AND YOU FEEL LIKE IT'S TIME FOR A CHAT CONTACT ME NOW USING THE LINK IN THE TOP MENU ABOVE.